You Can Now Create A Pizza Wedding Registry With Domino's
Photo Credit: Getty Images
As a wedding guest, it can be tough to decide on a gift the newlyweds will actually use. But this one is a guaranteed winner, and it doesn't cost much dough.
Domino's Pizza has created a wedding registry where couples can request the gift of pizza for before, during or after their big day. This may be the easiest cheesiest wedding decision you'll ever make: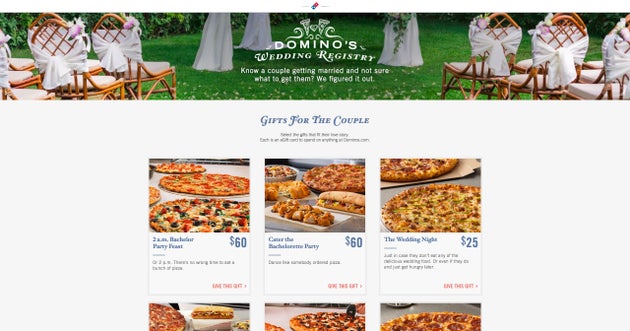 The Domino's Wedding Registry works like most others: Couples simply log in and create a profile with the items they want. Every item comes as a standard Domino's gift card, but the registry has given them clever names as suggestions for how they should be used: there's a "Cater the Bachelorette Party" gift card (intended for pizza during pre-wedding festivities), a "Dancing With My Slice" gift card (for delivery during the reception) and an "An Excuse Not to Cook" gift card (for married nights when adulting doesn't come easy).
The gift cards range from $15 to $100, and guests can send them online or print them out and deliver in person.